Receiving Back Ordered Inventory Overview
Any backorders in SapphireOne will be displayed in the arrivals function. While backorders/arrivals may be processed elsewhere in SapphireOne, for any employee that has been tasked with processing arrivals (Orders that have arrived), this is the best place for them to perform this action. SapphireOne has provision for processing complete or partial orders from the Arrivals function.
Arrivals Procedure
For example, your business receives an order for a guitar pedal into stock from a vendor.
Select Arrivals – First go to the Arrivals process in the Purchases Menu in Inventory Mode.
Selecting Quantities – In order to process arrivals that have been delivered, users must click the field in the 100% column. The arrivals process can be automated through a combination with the Sapphire Webpack. Notably, if an order is only partially delivered, the user can click the field in the ?% column to the right of the 100% column or click modify and quantify how much of the order has been delivered.
Processing – Once you click process, the Order Vendor Invoice will be processed into a Purchase Vendor Invoice and a receipt will be generated that can be printed or stored digitally.
Printing – Once you have completed the printing screens, you will generate a purchase invoice for the vendor as seen above.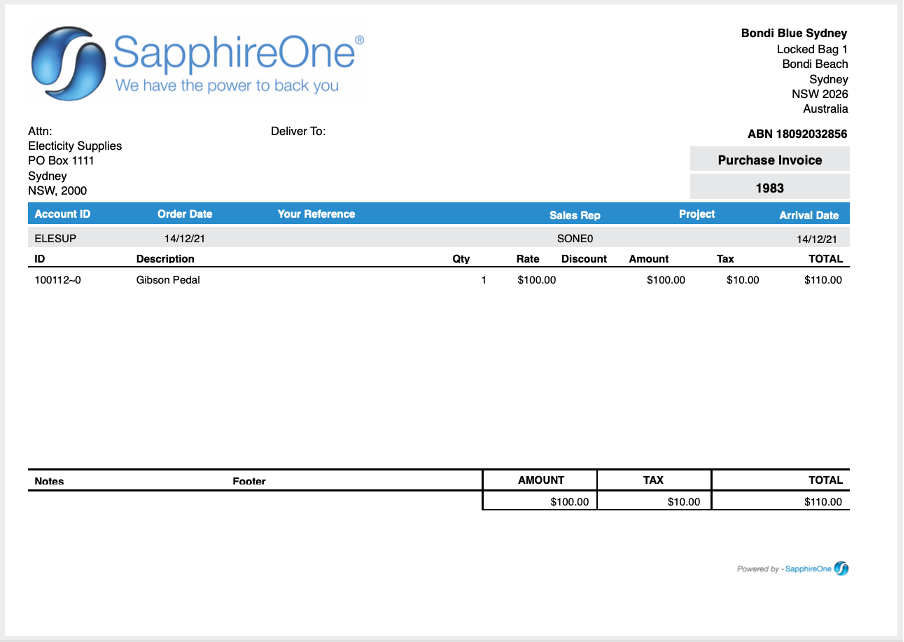 Generated PVI – The screenshot below shows the Purchase Vendor Invoice that was generated in SapphireOne. As you can see from the green paperclip, an item is attached – a copy of the original vendor invoice.
The process of entering an inventory into your SapphireOne datafile can be automated through the establishment of an API with a barcode scanner.
---
You can review our Blog and YouTube channel for additional information and resources on SapphireOne ERP, CRM and Business Accounting software.