The Manifest platform allows to conclude all product details, cargo descriptions, quantities, origins and destinations and finally print a label with all these details for your freight and shipping companies.
This platform is a comprehensive and efficient tool that streamlines the freight and shipping process for your organisation. This eliminates the need for multiple platforms and paperwork, saving time and increasing productivity.
One of the key features of this platform is its ability to generate a detailed label with all the necessary information for your freight and shipping companies. This includes the inventory and product details, such as weight, dimensions, and special handling instructions, as well as the cargo descriptions, quantities, origins, and destinations. This label serves as a vital communication tool between the shipper and the shipping company, ensuring that all parties are on the same page and the shipment is delivered accurately and on time.
Moreover, the platform keeps a record of all manifests created, making it easy to track and manage shipments. This feature also allows for easy retrieval of past manifests, making it convenient for your organisation to refer back to previous shipments and replicate the successful process.
Here is how to use the platform over the Sapphire Custom Web Pack:
Through the Navigation Page – select Manifest.
After being selected, The form will be displayed on the screen with the following information:

Service Type – Selected shipping provider.
Time – Time of creation.
Ref – Reference number.
Connote – Identification note.
Service – Type of service per manifest.
Box – Amount of boxes / containers / satchels.
Client – Client identification name.
Post Code – Postal code.
Printed – Either printed or not.
Print Manifest – Prints the full report that was selected.

Select a requested listing – and click "Print Manifest".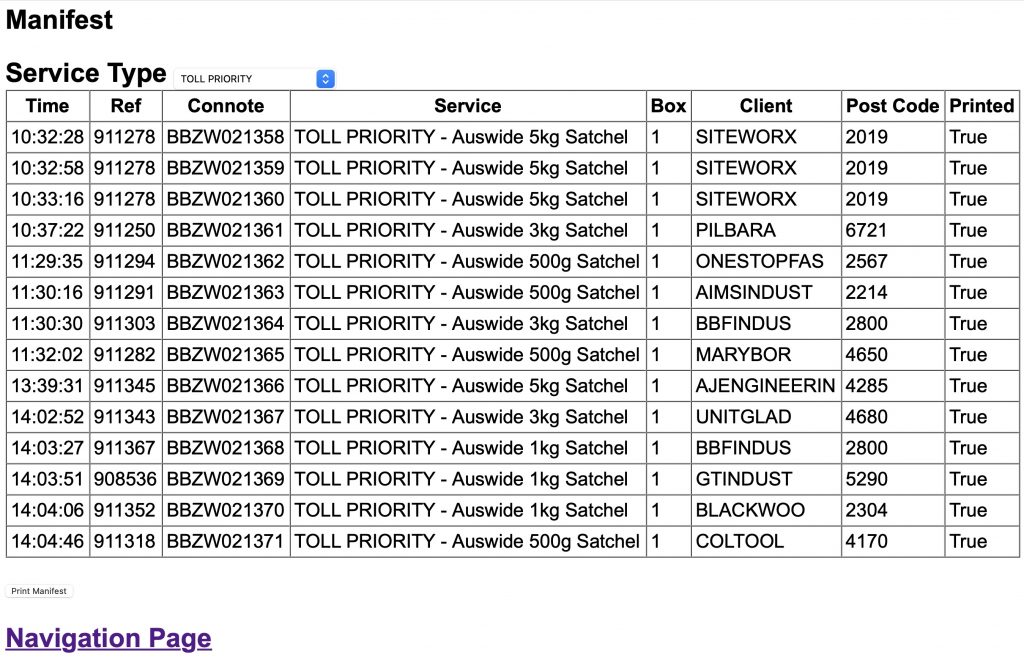 The full report will be shown on the screen.
You will be able to save it, print it or email it.
---
You can review our Blog and YouTube channel for additional information and resources on SapphireOne ERP, CRM and Business Accounting software.