ERP Accounting software which has powerful inventory management system that deal with foreign currencies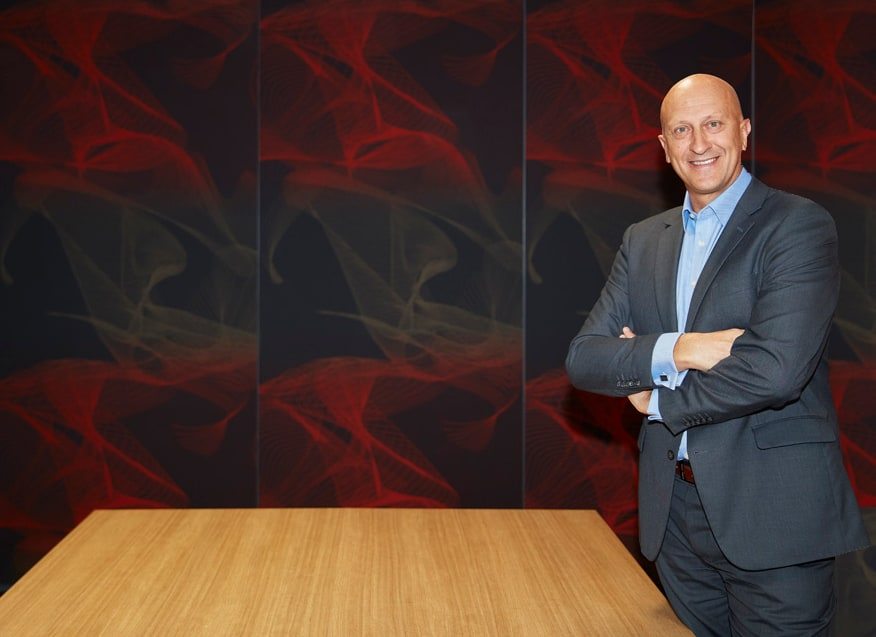 Eddie Lordanic, MISO
Eddie Lordanic is the Finance Manager of Marubeni-Itochu Steel Oceania (MISO) and a satisfied SapphireOne client since 2004. MISO is a division of the fourth largest trading house in the world and a big underwriter and supporter of infrastructure in Australia.
Eddie looks after both the Australian and New Zealand offices and reports to Singapore and Tokyo. Today there are 18 staff in what must be a very busy office.
"Essentially, we are a trader – a commodity broker specializing in steel. We use our buying power to marry suppliers and clients within Oceania. One of our biggest clients was GM Holden until last year, but we work with a lot of different industries, including construction and packaging steel.
Eddie says Marubeni-Itochu Steel Oceania was using an in-house accounting system which was unique to the group until 2004. "It was developed specifically for us and was very simple, but it didn't hold historical data. This was its main problem because it meant for prior year information, we'd have to manually refer to paper printouts.
"This wasn't satisfactory for anyone and so head office instructed us to source a better product until a global solution was agreed on. We searched the products available in Australia and found SapphireOne. We also spent time with existing SapphireOne users before deciding it could do the job for us.
"At the time, SapphireOne was to be an interim system to keep us going for a few years until a global solution was rolled out. It has lasted much longer than that.
"Our Singapore office introduced another accounting system in 2010 and after 12 months, the plan was for us to piggy-back off them. However, implementation in Singapore was more complicated than planned – as it can be when changing over any system – and after a year, they still hadn't made all the modifications required. Transitioning to the new software was therefore delayed which suited us just fine and we've continued developing SapphireOne ever since.
"We were after a program that was user-friendly, could retain historical data and, most importantly, allowed in-depth transactional sales analysis. We do a lot of analysis here, including audit reporting back to head office.
"With SapphireOne, we can logon to see inventory levels and sales reports at any time. One of SapphireOne's strengths is dealing with different currencies and as we trade in all the world's major currencies, forex reporting is critical. We had a few issues getting the foreign exchange functionality just right, but through developing, tweaking and upgrading with SapphireOne's developers, we now have it where we want it to be."
Flexible Reporting Systems
Eddie explains that his reporting obligations are very much driven by head office and perhaps his biggest headache is consolidating his Australian and New Zealand operations.
"We have two businesses, each with their own currency, from which we extract the required reports in US Dollars, which are sent up to Singapore and then onto Japan. I think it's fair to say our consolidation is very challenging, but it is achievable using SapphireOne's flexible reporting systems."
Unusually, Eddie has two different trading entities sitting in the one datafile, again showing SapphireOne's flexibility. His Australian and New Zealand operations are closely linked and require a consolidated view, but he also needs to report individually for each country. Add in two different currencies and it's a potential forex headache – were it not for SapphireOne's ability to deal with a large number of different currencies.
"We have over 3,500 inventory items and seven core trading divisions, all broken up into different segments according to head office requirements. There was a lot of customization required for our reporting, something we could achieve within SapphireOne.
"Our invoice is a little unique in that it's not just a matter of entering a sales value. There is a particular format which includes custom codes and shipping details, and often in a number of different currencies as well. All this has been made possible using SapphireOne's ReportWriter – the customization is incredible."
Tracking Costs and Expenses 
Eddie says the support received from SapphireOne's developers has been excellent.
"When we have an issue, we gather as much information as we can and then contact the SapphireOne Team. Using TeamViewer, we can get the problems rectified very quickly – it's been great to have quick and prompt support from the SapphireOne crew.
"We're looking to expand our analysis reporting right down to a GP per item. We're close because SapphireOne allows us to track everything to do with a particular transaction, from the contract numbers and inventory items to the shipping, so we can see all the costs and incomes together. We almost have an operating profit before tax result – it is very powerful."
Eddie says the inventory and general ledger modules are where he spends most of his time in SapphireOne. The management module is used to prepare BAS and other monthly reports, and period and year ends as well. In the utilities module, he can find all the history and audit lines upon which so much of his analysis depends.
"We use history and audit line reporting on an almost daily basis, from querying how many transactions a client has recorded in a particular time frame to sophisticated reports for head office. This is critical to our business model. SapphireOne is very easy to navigate around, once you know how to drive it, and the database really is amazing – and yet I think we're only using about 5% of its capacity!
"The main thing is that I know all the data is securely collected in an accessible structure. It's up to us to get the most efficient reporting out of it.
"My only problem is that the datafile is now over 2GB, so I'll need to upgrade our server to maintain speed!
"To be frank, MISO is a complex business and the reporting requirements for Tokyo are very specific, yet with SapphireOne's streamlined capabilities, we're able to meet our deadlines every month."