Follow the steps below to install SapphireOne on your Windows
Step 1 – Load DVD
Insert the SapphireOne Installer DVD into the DVD drive on your computer.
Note: if you do not have a DVD drive you can download the files from the SapphireOne FTP.
Step 2 – Setup
Welcome – select Next to proceed
Software License Agreement – click Yes to continue
Choose Destination Location – leave as C\ drive and click Next to proceed
Setup Type – leave as Typical and click the Next button to continue
Ready to Install – Click Next
Include Uninstaller – Click Yes to complete setup
Step 3 – Launch Application
Navigate to SapphireOne in your Programs folder and double-click the SapphireOne SingleUser file
Software License Agreement – click Yes to continue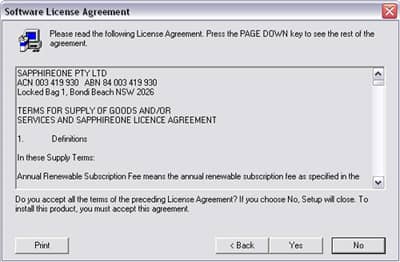 Database request window – choose Open
Step 4 – Select Database
Select 4D file – Open the SapphireOne folder
Open the folder named Sample Datafile
Double click on the file named BondiBlue
Step 5 – Validation & Agreement
Click Agree to continue.
Step 6 – Email Notification
Enter your email address
Company Name
Country
Click the Send button
Note: You will need to be connected to the internet to complete this step.
Step 7 – Login Details
Enter your email address
Enter Login ID: SONE0
Enter Password: SONE0
Note: All characters are capitalised and the last character is a numeral (zero).
Step 8 – Message Alert
If you are connected to the internet you will be able to select OK to continue
Step 9 – Terms & Conditions
Click Agree to begin.